Cycle-e-Thon Activities :: School Students date with Add. Municipal Commissioner R.A. Rajeev
Wednesday, 16th September 2009.
Courtesy: The Society Bulletin
Mumbai Municipal office which is normally a place visited by complainants, contractors or politicians had a unique guest this Wednesday morning. Students from three different schools of Mulund, studying in eighth and ninth standard had an appointment with R. A. Rajeev, Additional Municipal Commissioner, MCGM. Few days back BMC thought of appointing an agency, to study and submit the feasibility report on the possibility of having dedicated bicycle tracks in the city of Mumbai. This very news brought cheers on their faces. Mulund Parents Association MPA submitted a memorandum signed by 2500 school students from 12 different schools of Mulund on August 2008 with the then PWD Minister Anil Deshmukh and Municipal Commissioner Jayraj Phatak requesting to provide separate bicycle tracks in the suburb of Mumbai.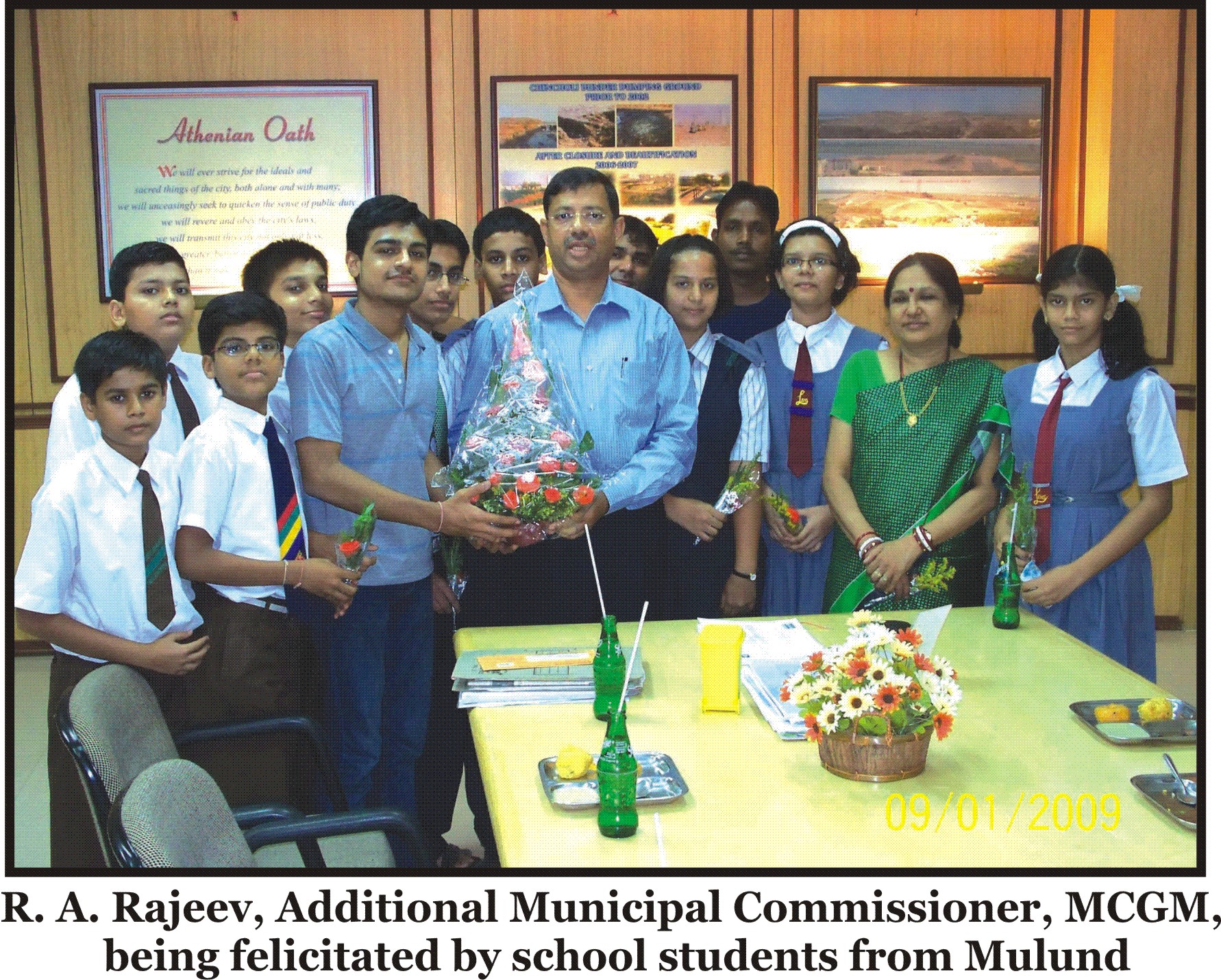 The reason cited was, bicycle riders are totally neglected in any of the planning that Government does like building of bridges or making of highways or even the roads built in suburbs. There is no place for bicycles to ride. Providing cycle tracks will motivate people to ride bicycles, this will reduce pollution, lessen traffic jams and also concerns for global warming will be addressed to some extent. Parents at present hesitate allowing children to ride bicycle fearing an accident.
The news of R. A. Rajeev appointing an agency to study if such possibility exist, itself was a positive step said Yagnesh Katira, co-ordinator of Cycle-e-thon, who has held several bicycle rallies before, to boost the practice of bicycle riding amongst the school children.
An SYBCom. Student of Vaze College he also has the website http://cycle-e-thon.tripod.com where in the kind of work that he has done to boost cycle riding and the benefits of cycle riding are mentioned in details.
We need to felicitate the commissioner for such a bold step and also to make him aware as to how serious is our need for such cycle tracks so we asked for an appointment says Yagnesh.
Students from Vidyaben Gardi High School, Mulund(w), Sou Laxmibai High School, Mulund East and J. J. Academy from Mulund Colony and the representatives of MPA, Yagnesh Katira and Bhavesh Hingoo were present at the meeting.
Seeing the school children and the very much impressed. In his address to the students he said about 6% of the population uses automobiles like car, motorcycles etc., where as 7% of the total population uses bicycle as the mode of transport.
He further said for 6% of this population we have spend 1800 crores only towards Bandra Sea Link and many more crores are spend towards providing other infrastructures to them. We need to do something, for those using bicycles. He also assured MPA of providing a CD on bicycle, that he personally has and said it will be helpful to students. Students were very much impressed with Commissioner and the kind of treatment meted to them by his office.
Said Ayush we were treated like VIP. We thought we will be made to wait outside the office for long time and then possibly a door will open. We wont even get 10 minutes of his time, I thought, but he gave full half an hour to us which was really great of him, Ayush further added.
Commissioner is down to earth person. He did everything to make us feel homely said Raashi Dabole.
After a long chat with commissioner students felicitated him with flowers. They handed him the copy of signature campaign, consisting of 2500 signatures from 14 different schools, which was submitted by MPA in August 2008, requesting the authorities for dedicated cycle lanes.
MPA finally before leaving expressed their hopes of expecting something very positive on cycle tracks very soon from his office.
In the latest development, R. A. Rajeev has announced that BMC will have cycle-e-thon in the whole of Mumbai this year end in the press interview published this Friday in leading newspapers.
Yet guys even you can drop in any suggestions and ideas on how we can successfully implement this service in the crowded place of Mumbai so that we can achieve our mission of making Mumbai 'The First Bicycle Capital of India'.
You can mail your suggestions at kyagnesh@lycos.com.
© cycle-e-thon.tripod.com