Courtesy :: DNA Newspaper
Saturday, August 16th, 2008 (Mumbai)
The cycle rally, starting at borivli national park, headed for the gateway of India.
Reporter: Anjali Donna Rego. Borivli.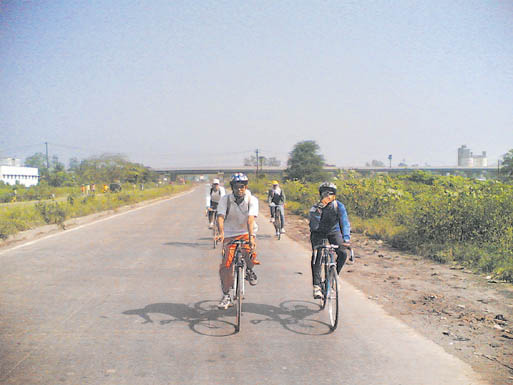 When most indians are enjoying their annual independence day holiday, here is a group of individuals who came together to spread awareness of protecting the environment. About 30 men and women from all over Mumbai participated in a cycle rally beginning from Sanjay Gandhi national park here to the gateway of india. The rally that began at 9 am was organized by the Goregaon-based round the earth cycling club (RTECC).
The group cycled along th! E western express highway, then on s v road till bandra. From there th ey went through Dadar, Worli, Prabhadevi, marine drive and finally reached gateway of India at 1 pm.The cyclists wore t-shirts with messages about protecting the environment. Along the way, the group distributed t-shirts and pamphlets about environmental conservation, health risks related to pollution and the benefits of cycling.
"We chose a longer and busier route so that we could meet more people along the way and spread awareness," said Amey Bhagat, a cyclist of RTECC.
Anoop rajan, another cyclist and member of RTECC, said, "India attained independence from the British 61 years ago. But we want to free india from enemies like pollution, traffic jam and health diseases."
RTECC was launched a year ago by four like-minded individuals - Niraj Ghate, Kaustubh Gujare, Vikas Chauhan and Kiran Patran.
"We believe that the cycle is the cheapest and best way to commute without polluting the environment," said Gujare, the co-founder of the club. "as cycles are com! Pact, it neither blocks traffic nor pollute the environment. Cycling will help you reach your destination fast and also keeps you fit and fine," he added. Today, the club has more than 50 members and they cycle every sunday. Not only is the group confined to cycling in mumbai but have also cycled across the length and breadth of india.On January 12, 2008, a group of cyclists participated in a cycle rally from Kanheri caves in Kanjay Gandhi national park to Kanyakumari. The rally took a month. "but it was all worth it because we cycled during the day as that is the time we can create maximum impact among people. Moreover, we did not use any fuel and we came back healthy," said Gujare.
The group wants more people to come forward and support this cause. There is no membership fee. All you need is a cycle and preferably a helmet to cycle about 30 - 40 kilometres across the city every Sunday.
[for more details, please contact anoop rajan at anoop.hnsc@gmail.com]dnawestcoast@dnaindia.netn the participants cycled from Sanjay Gandhi National Park to the Gateway of India.




© cycle-e-thon.tripod.com